I love the word "extravaganza" and use it every opportunity I get. Makes everything fancy. Okay, focus.
I am so excited to be posting right now! For a few reasons, first
Park City Girl AMY
is having her blogger's quilt festival which we've been waiting and waiting for! You must go check out all the amazing quilts people are making.
Speaking of amazing, my mommy designed this quilt for my sweet baby boy! Isn't it precious? I love everything about it, the sailboats, the water...the colors. I adore.
Megan and I are so lucky to have such a talented mom, let me tell you she put so much thought and time into every bit of this quilt, and I am so grateful. It will live through our family for generations to come I'm sure. And yes, this bad boy will soon make it to the printing press to be one of our patterns :)
The next reason I am so excited to be writing this post? We are launching our new blog, bold, we know. Bless our hearts, but please indulge us. We are absolutely giddy over it.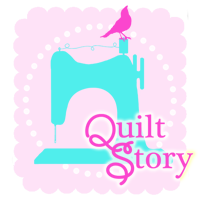 It's called QuiltStory and it's a place where we want to share other's amazing quilts and stories that go along with them. We want readers to come and admire as well as quilters to make their submissions. Please go and check it out!

Finally, the last reason I'm excited and quite frankly why you will soon be excited, we're having a
FABULOUS GIVEAWAY (extravaganza)!
Choose 5, count it 1-2-3-4-5!!! of our patterns!! And for those of you maybe a little intimidated by the quilting, you could also win:
A stack of 5 fat quarters to do what your heart desires. Now the giveaway for the fabric is
only on our Quiltstory blog
, however we are giving away 5 patterns on this blog AND quiltstory! So basically there is
eleventy billion
ways to win.
- 1 entry per comment
- 3 entries per follower
- 5 entries if you submit a quilt and story to Quiltstory (details there)
Please state in your comment(s) what you have done, and make sure to enter both blogs! We will announce our giveaway winner at the end of the quilt festival, May 28th.